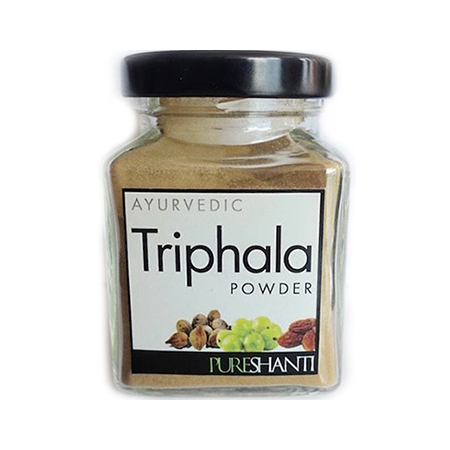 Triphala Choorna / Powder, 50g
---
---
'triphala' is named from two Sanskrit words that literally mean 'three fruits'. Triphala is made by blending the dried and powdered rinds and flesh of amlaki (or […]
---
'triphala' is named from two Sanskrit words that literally mean 'three fruits'. Triphala is made by blending the dried and powdered rinds and flesh of amlaki (or Indian gooseberry), haritaki (from the terminalia tree) and bibhitaki (from the bahera tree).
This combination forms a powerful gastric healer and acts as a gentle, safe and highly effective detoxifier for the intestine, colon, blood and liver, and an ancient intervention for constipation.
It is packed with antioxidants such as gallic, ellagic and chebulinic acids, as well as flavonoids and polyphenols with potent antibacterial, anti-inflammatory and antidiarrheal properties. And it is rich in vitamin C.
Ayurvedic doctors prescribe it for almost everything gut related and more, from constipation and indigestion to gastroenteritis to cardiovascular disease, mental health conditions, liver and pancreatic disorders and cancer. (A study by researchers at the University of Pittsburgh Cancer Institute confirms that triphala prevents and slows the growth of pancreatic cancer tumors. Studies also confirm triphala can repair the large intestinal holes caused by Leaky Gut Syndrome. It tightens your gut wall and rebalances intestinal mucus, which is key to protecting you from further intestinal attacks).
Triphala Tea recipe:
Add ½ teaspoon of triphala powder into a cup of hot water.
Taken on its own, it can taste very bitter. Try adding a little rice malt/maple syrup and ghee (Indian clarified butter) to the mix.
Always take triphala on an empty stomach before meals or at bedtime.
Triphala is contraindicated for people with chronic liver or kidney diseases, pregnant or nursing women, or people taking blood-thinning medication.
---