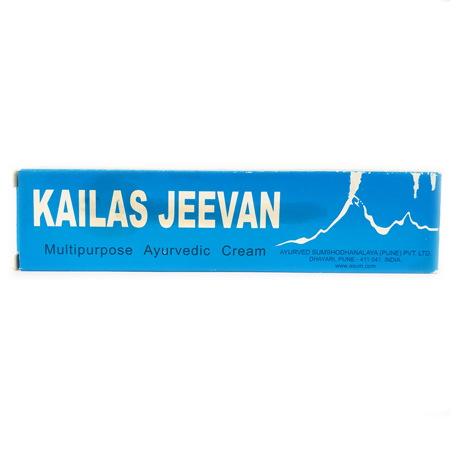 Kailas Jeevan Cream, 20g
---
---
Kailas Jeevan Cream, 20g
Ayurvedic multipurpose cream that can be used internally as well as externally.
---
Kailas Jeevan Multi Purpose Ayurvedic Cream is a natural and safe ayurvedic skin cream used for the treatment of piles, fissures, disorders of bowels, the burning sensation of urine, palms, soles, and eyes, unsound sleep, chilblain, cracked heels, toothache, chapped hands, and skin problems. It can also be used for several other purposes such as insect bite, mosquito bite, boils, prickly heat, itch, scabies, acne, burns and diseases caused by heat and pitta. It is suitable for both internal and external uses.
Key Ingredients:
Coconut oil (Cocos Nucifera)
Pandhari Ral (Shorea robusta) resin
Chandan Taila (Santalum Album) essential oil
Bhimseni Kapoor (Camphor) flakes
Shankhjire (Talc) powder
Kadunimb (Azadirachta indica) leaves kadha
Gokharu (Tribulus terrestris) fruit kadha
Doorva (Cynodon dactylon) panchang kadha
Pahadmool (Cissampelos pareira) roots kadha
Sudhajal (Calcium hydroxide)
---