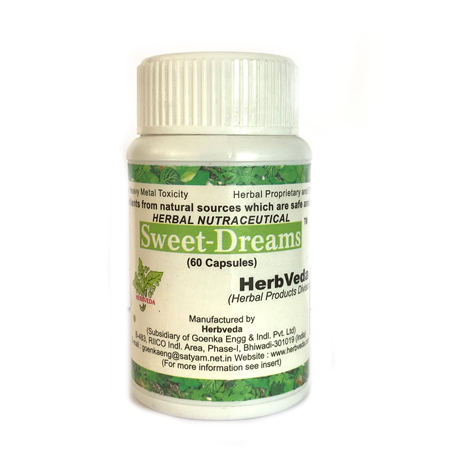 Sweet-Dreams, 60 Capsules
---
---
Name of product: Sweet Dreams
Nature of product: Capsules
Dosage/directions for use: 1 capsule at bedtime
Indications: Insomnia or sleep related disturbances can be checked with Sweet Dreams. It is an effective combination of herbal extracts which are very useful in Insomnia. It induces sleep naturally and without any side effects. The relaxed feeling and sleep cycle sets in gradually within a few days, and then the capsules are no longer required.
A very refreshed feeling after a good night sleep. A 100% herbal preparation with lasting results and no morning hangovers like other sleeping drugs. A unique and a non habit forming formulation. Safe to use in insomnia and other sleep related disturbances.
It is prepared from pure, natural herbal extracts.