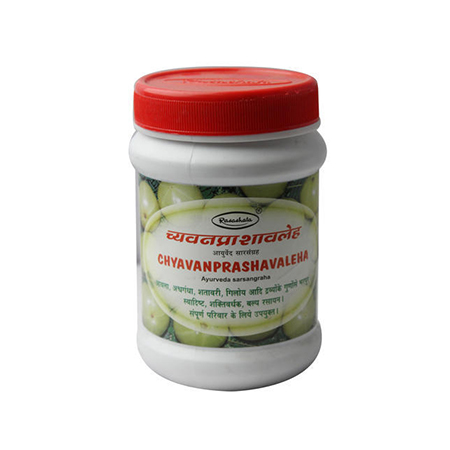 Chyavanprashavaleha Paste, 500g
---
---
Chyavanprash 500g
Name of Product: Chyavanprash, Chavanprash
Nature of Product: Paste/jam
Dosage/Direction for Use: 1 Teaspoon 1 to 2 Times with Milk or Water.
Indications: Chyawanprash has anti-oxidant properties & strengthens your body's internal defense mechanism, the immune system, thereby protecting you from everyday infections, cough, cold & stress etc.
---
At a time when flu and viruses are everywhere, your immunity system provides the best prevention from these deadly diseases. Chyawanprash, a time-tested, age-old formulation has a number of herbs such as Amla, known to be one of the best antioxidants, Giloy (Guduchi) known to have immuno modulatory properties, and has more than 40 other natural ingredients, to boost immunity.
What's the best thing to do when you have a big project coming up, or need to take care of the children, or need to run an errand, but you're too tired or exhausted from your already busy lifestyle? Chyawanprash is an amazing energy booster gives you access to your body's natural ability to rejuvenate.
Derived from 2,500-year-old Ayurvedic formula
Totally chemical-free, natural and safe
Powerful combination of herbs and plant extracts in a base of Amla fruit pulp
Reinforces the immune system and helps fight disease
---